A Jar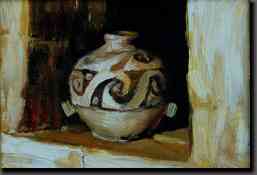 Purchase a giclée print:
Purchase a poster paper print:
Canvas prints are digitally scanned and printed by state of the art oil printers. The result is a giclée or glycee oil reproduction.
Min will personally highlight and sign each piece. Paper prints are also digitally scanned and printed.
They are mounted on hard paper poster frames and laminated over transparent plastic. Min also signs each paper print.
Shipping for paper print is $5 up to three pieces and for canvas print is $10 each.
Refunds must be made within 5 business days of item(s) arrival and is less the shipping fee.
Please allow up to two weeks for shipping. Contact min@minlifinearts.com for any questions regarding purchases or refunds. Also, any comments or questions are welcome. Allow 2 business days for email response.