Still Life Series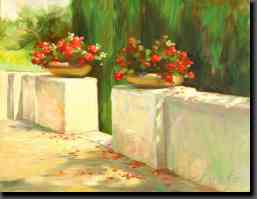 En Plein Air Series

Flower Series
Red
16x12 Oil on canvas



Good Morning Breakfast (1998)
30x30 Oil on canvas



paradise
20x16 Oil on canvas



Sunflowers (1996)
10x12 Oil on canvas

In the impressionist tradition of Van Gough these sunflowers in a transparent glass vase are painted with a loose palette. The brilliant Venetian red of the interior stands in an electrifying contrast to the cadmium yellows and burnt sienna of the sunflowers.

Flower and Peaches (1998)
30x30 Oil on canvas
$1250

Sold



In this still life Min achieves unity by repeating a single color gradient throughout the composition: the black of the mirror, wall, flower leaflets and stems. The juxtaposition of flower to fruit, the mirror reflecting the slightest touches of manganese blue and the fold of the tablecloth are some of the details that make and highlight this composition.

White Flowers (1996)
36x24 Oil on canvas

Min painted this flower bouquet of rich begonias using a color palette of rich ochers. Min uses various earth shades for "optical color" while the "local color" remains in the title. The morning light is filtered and also strongly evident in this work.

Dewdrops (1996)
10x8 Oil on canvas

This sharp focus and precision of the quinacridone-rose (colored) tulip bud is a perfect example of photo realism as coined by Louis K. Meisel in 1969. The preservation of accuracy with an emphasis on imagery and color of the dew droplets requires a high level of technical prowess and virtuosity to simulate.

Dusk (1997)
12x16 Oil on canvas
$1950

Sold



This oil of a homegrown pot plant flaunting gorgeous viridian leafs exhibits a teal color theme resulting in an overall unity and balance of composition. The fuzzy "sfumato " background of the mountains on the horizon are an interesting contrast to the precision of the shape of the flower.